Clinical evidence of actigraphy and wearables in healthcare 
Vivago MOVETM watch measures circadian rhythm, sleep and daytime activity. Circadian rhythm follows what is going on in a person's life balance. For professionals who can interpret actigraphy, it displays joys and sorrows, but also the effects of illnesses and medications, which may influence a person's wellbeing and capabilities.
Vivago users may view their real time data and wellbeing reports with a mobile app. Medical professionals can view the whole actigraphy status and real-time analytics for diagnostics and follow-up for care path and changes in medication. 
Introduction to Actigraphy with Vivago MOVETM
The technology in Vivago MOVETM is based on actigraphy and sleep algorithms developed by Vivago together with sleep laboratory VTT Technical Research Centre of Finland. The watch provides users with an activity curve, which displays movements in high amplitude and rest in lower amplitude. The activity curve is sensitive in detecting even the smallest of changes in the user's circadian rhythm, sleep and daily activity. Vivago's automatic change algorithms adapt to user and pick up specific changes in actigraphy. This allows fast reaction to find reasons behind the fluctuations in the strength of the circadian rhythm. The greatest value of activity curves reveals itself when also other information about the patient's health and wellbeing are available. For instance information of used medications, as well as changes in them, combined to the user's subjective recall are valuable when assessing the overall wellbeing of the patient.
Vivago MOVETM helps clinicians assess their patients' status more accurately. When the evaluation of the person's situation is solely based on their verbal description, or even hand-written sleep or mood diaries, all relevant information is not always conveyed. The pieces of information are subjective, easily forgotten, and often difficult to interpret. Adding a component, which produces objective data, will help the clinician see more.
Actigraphy data may prove a valuable tool when assessing the wellbeing of the following types of patients
The elderly, who live on their own: status evaluation, defining need for home care visits, timing of home care visits

The elderly living in care institutions: timing of daily and night time care, follow-up of medication, detecting changes in wellbeing

Patients with sleeping problems, and those suffering from conditions that affect sleep

People with mental conditions, such as depression, bipolar syndrome, or psychotic tendencies

Patients with chronic or acute pain: painful episodes can be detected from actigraphy and also affect the circadian rhythm

People with high stress

Rehabilitation of people recovering from surgery or accident

People with dementia, Alzheimer's or Parkinson's disease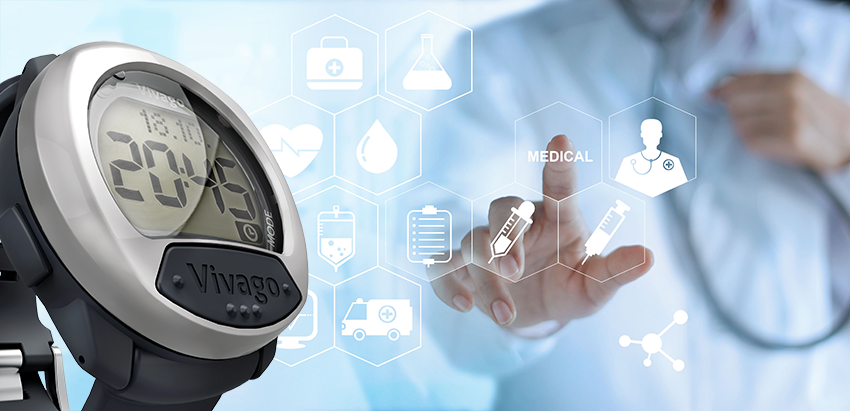 Vivago MOVETM has medical device approval
Vivago MOVETM is registered as a medical device, which means that it has undergone a thorough technical and clinical scrutiny, and is an acceptable tool for medical practice. The used algorithms are validated. Vivago MOVETM is easy to use, the watch is water resistant and battery life time is one month. 
Vivago MOVETM is developed and manufactured in Finland.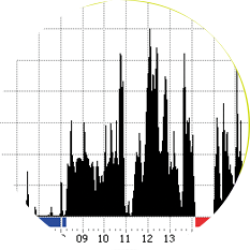 Clinical Study:
Measuring Sleep, Activity and Circadian Rhythm in the Rehabilitation of the Elderly
Supporting the functional capability of the elderly with rehabilitation
Download Clinical Study