Forerunner in personal healthcare technology
Vivago®️ was founded in 1994 when a Finn, Matti Myllymäki, looked for a security device for his elderly mother to ensure her safety and wellbeing all the time. Matti wanted to have three key features: an automatic alarm function, a feeling of safety for the person and peace of mind for relatives. These functionalities are still the backbone of Vivago solutions today.
Vivago®️ develops smart solutions for preventive care monitoring and analysing watch user's health status and wellbeing information. Innovative solutions serve the whole care chain from home care and assisted living to rehabilitation centres and hospitals. Vivago solutions increase the feeling of safety with automatic alarms and by providing wide range of health status information to support daily care and to follow-up the effectiveness of medical care. Preventive health status information and care based on individual need are the key factors for better healthcare.
Real-time notifications inform about changes in the person's health status enabling care providers to react proactively and focus on individual care. Vivago solutions measure watch user's activity, sleep and circadian rhythm and provide health status information to medical professionals and multi-professional teams to help the medical decision making for patient centric rehabilitation and treatment.
Vivago – Already a proven solution
More than 80 000 Vivago watch users 
More than 20 000 home system users
More than 900 care and nursing homes use Vivago solutions

New Era of Digitalisation
Tens of thousands of people use Vivago's Finnish-made solutions daily and the rapid technological development is opening even more opportunities. Full digitalisation of health status follow-up opens a revolutionary path to change the delivery of care from reactive to predictive, and to tailor fully patient centric outcome driven care.
Vivago solutions are based on its own health status and safety algorithms, that are clinically validated and proven to increase the efficiency and quality of care in daily practice. Vivago drives complete health digitalisation with technological innovations to revolutionise the healthcare for years to come.
The high-quality products are manufactured in Finland, protected with several patents and have been awarded with several international and national recognitions.
Vivago®️ – Right care, at the right time, in the right place

Additional information
Read more about Vivago's innovative solutions for home care, assisted living, care homes, hospitals and rehabilitation at www.vivago.com
Download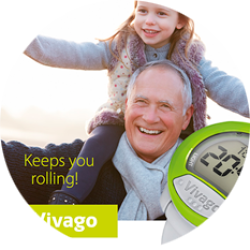 Brochure: Transforming Digital Health into Smart Care
Vivago MOVE solution has clinically validated real-time adaptive algorithms for sleep measurement indicating individual health status and wellbeing.
Download Brochure